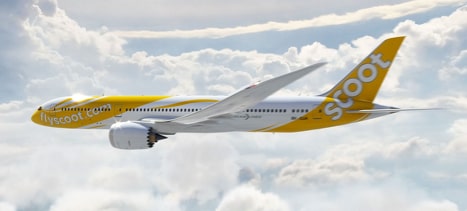 Can you cancel your Scoot flight and get a refund?
Can I cancel my Scoot flight?
Do you have a flight with Scoot airlines that you cannot use anymore? Plans change, it has happened to us more than once! Read below to find out how you can cancel, if you can get a refund and how changing the name and selling your flight to another person can help you recover your money for your non-refundable flight. 
Can I cancel my Scoot flight?
No, unfortunately. Scoot tickets are non-cancellable and non-refundable. 
Some exceptions may be due to:
1. Medical reasons
2. Death of passenger or immediate family members
3. Schedule change or delay with retiming of 3 hours or more
All refunds are subject to review by customer services and may be extended in the form of Scoot travel vouchers instead of refund in your bank account. 
Can I change my Scoot flight?
You can change the date and time of your Scoot flight, but not the destination, up to four hours prior to the scheduled departure of your flight, subject to the following conditions:
Your flight is not part of any Interline journey;

If the new fare is lower, the fare difference will not be refunded;

If the new fare is higher, the fare difference must be paid;

If your original booking is part of a Two-2-Go or similar promotion, changes to flight/date of must apply to all guests on the booking;

If your booking includes a promo code, the discount will be retroactively reversed for all flights in the booking. Any fare difference between the discount and the original prevailing fare will apply as promo codes are valid only for the booking period of the promotion;

Changes to destinations are not permitted. You will need to make a new booking, with the amount paid for the original booking forfeited.

You can make changes online via Manage My Booking on FlyScoot.com, the Scoot mobile app, or through their Call Centre. Standard fees and charges will apply. Please refer to the Scoot Fees Chart for the full list of fees.The fees are different depending on where you fly from and how you cancel and how long is your flight.  
Here is a quick summary of the fees if you make the changes online: 
| | | |
| --- | --- | --- |
| Flights less than 4 hours | Flights between 4 and 7 hours | Flights between 7 and 11 hours |
| SGD 60, AUD 60, CNY 300, EUR 39, HKD 360, IDR 630,000, JPY 5,000, MYR 180, PHP 2,400, SAR 175, KRW 49,500, TWD 1,380, THB 1,440, INR 3,100, USD 45 | SGD 80, AUD 80, CNY 400, EUR 52, HKD 480, IDR 840,000, JPY 6,600, MYR 240, PHP 3,200, SAR 230, KRW 66,000, TWD 1,840, THB 1,920, INR 4,200, USD 60 | SGD 100, AUD 100, CNY 500, EUR 65, HKD 600, IDR 1,050,000, JPY 8,300, MYR 300, PHP 4,000, SAR 290, KRW 82,500, TWD 2,300, THB 2,400, INR 5,200, USD 75 |
If you want to make changes using a different method, here you can find the full list of fees: Scoot Fees Chart. 
Can I change the name on my Scoot booking?
Yes, Scoot airlines allow name changes. This means that even if you are not able to use your ticket, you can still get a refund. Just sell your ticket to someone else and pay the name change fees. The fees vary depending on where you fly out of, how long is your fliguth and what is the method of name change - online, over the phone or in person. Online changes are always cheaper. The Scoot name change fees are the same as the flight change fees - you can see the table above. If you want to make changes using a different method, here you can find the full list of fees: Scoot Fees Chart. 
Where can I sell my Scoot flight?
You can sell your flight on SpareFare.net. We are like eBay for travel reservations, with the added benefit of secure transfers and expert customer support. Click here to sell your flight.
In this blog post, you can learn more about how selling your flights on SpareFare works.