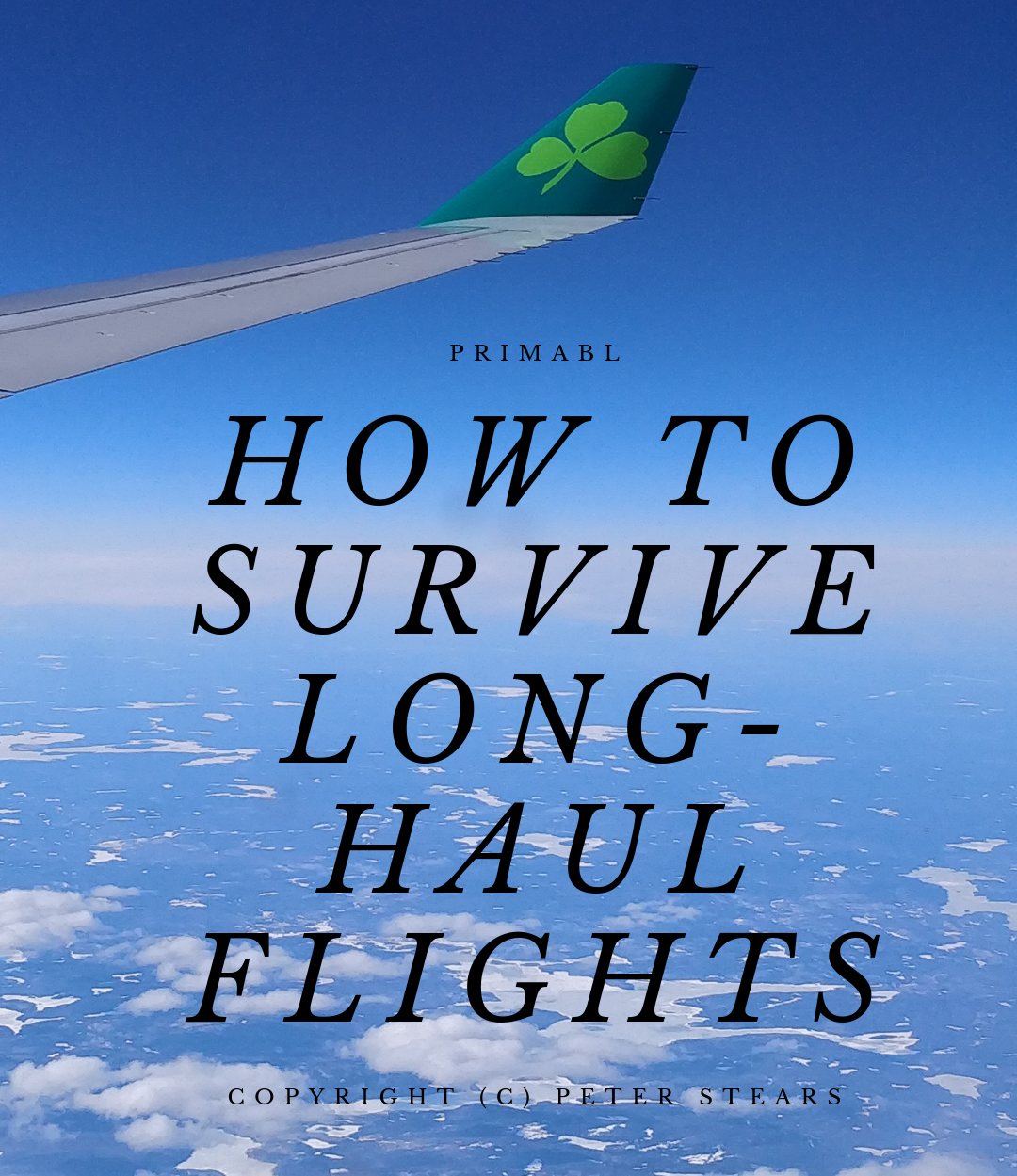 How to survive long -haul flights
Long-haul flights at times can be stressful experiences. Strict timetables, worrying about baggage weight limits, long queues, praying the retainer bar you have in your mouth doesn't set off the metal detector, overpriced food and water, and once you get through all of that, the potential to be sat beside a crying infant for multiple hours. Welcome to air travel, please fasten your seat belt, it's going to be a turbulent ride.
Since their inception, airplanes and air travel as a whole have received their fair share of disdain from jet-lagged travellers. But it doesn't have to be this way! Now that you've secured your amazing deal on SpareFare, it's time to get prepared for your flight. Here are Primabl's Top 5 Tips in becoming a master of long-haul flying!
Try keeping your carry-on to just a backpack
If you can afford to, try keeping your carry-on luggage to just your personal bag or backpack that you can put under the seat in front of you. If you are checking on a bag, try your best to fit as much as you can into it, as just travelling with a small backpack is really handy.
By bringing just a backpack on-board with you, It means you don't have to struggle to put your bag in the overhead luggage compartment while also trying not to elbow people as they pass you by; it means that all of your handy travel accessories are just in front of you; and it also saves you time in the mad rush to get off the flight when the plane lands.
If you're just travelling with a carry-on suitcase, be smart about what you pack. Think you're going to be using your headphones? Why not take them out of the bag and put them around your neck before you join the boarding queue? Have a jumper that you think you might need later in case you get cold on the flight? Pack it on top of the bag, so when you open it up, you just have to reach in and it's the first thing you touch.
Pack wisely
So you've (hopefully) managed to get your carry-on luggage down to just a backpack or a personal bag - great! Now it's time to think about how long you'll be flying for, if there could be potential delays, if you have a stopover, and how often you'll eat on the flight.
By asking yourself each of these questions and thinking about your answer you can best prepare yourself for any eventuality. Your flight may be 8 hours, but the news reported there might be thunderstorms at your destination - prepare for the possibility of being diverted to another airport, do you have access to money for emergency accommodation?
When you take your bag on board it's pretty much the only personal possession you have access to for the entire time you're flying. And potentially, if your check-in bags don't make it on the flight with you, could be your only possession for your first day on holidays.
It's important to assess yourself and your needs. Have certain medication that you need to take - do not forget to pack it. Suffer from heartburn? A couple chewable heartburn relief tablets can be a life-saviour while flying - especially with the sometimes iffy airplane food.
By rule of thumb I always consider these items for my carry-on:
A jumper

Headphones/Earphones

A bottle of water

Two light, high-energy carb-y snacks that don't contain nuts (be considerate of your fellow passengers and their possible allergies)

A small kit which includes four Paracetamol/Tylenol, a couple of bandaids, antiseptic wipes/hand wipes, heartburn chewable tablets and any other medication you might need.

A charging cable for your phone and power banks.

Power banks!!! I pack as many as I can.

Earplugs if you don't have headphones/earphones - you do not want to be flying for 10 hours with a baby that has colic and not have ear plugs - prepare for the worst.

A small face cloth - it is so nice to refresh with a face cloth halfway through a long-haul flight!

A printed copy of your boarding card, hotel/airbnb accommodation, travel insurance policy, and/or visas.

A wallet containing your ID (you'll already have your passport anyways), an insurance card (if applicable), and/or cash/debit/credit cards (make sure you tell your bank that you are travelling prior to departing!).
This is not an exhaustive list and all of these items are small items that will fit nicely into any backpack!
Dress for comfort
Airports can very well be fancy places and people do tend to dress-up but while your new holiday clothes look great and you can't wait to wear them, try to keep the nice clothes for when you arrive at your destination, and wear comfortable, casual clothes.
For some people, casual means jeans and a t-shirt, and for others it means a tracksuit. Whatever you wear, just make sure it is comfortable, non-restrictive, and light.
When you go up in the air you expand, your stomach expands, your legs expand - everything expands! What you don't want to is to be sitting there uncomfortably in skinny jeans that have no leeway, socks that are cutting off circulation, and in a shirt that doesn't allow you to lift your arms above your head.
Think comfortable, air-y, soft, and breathable. I have worm cotton-type jeans on flights before and they were stretchy, but I much prefer a pair track pants. If you're not the biggest fan of track pants like myself, bring a pair in your backpack and change into them just before boarding your flight - sorted!
A comfy pair of track pants and a flow-y t-shirt will leave you far more comfortable and relaxed during your flight.
Ask for an upgrade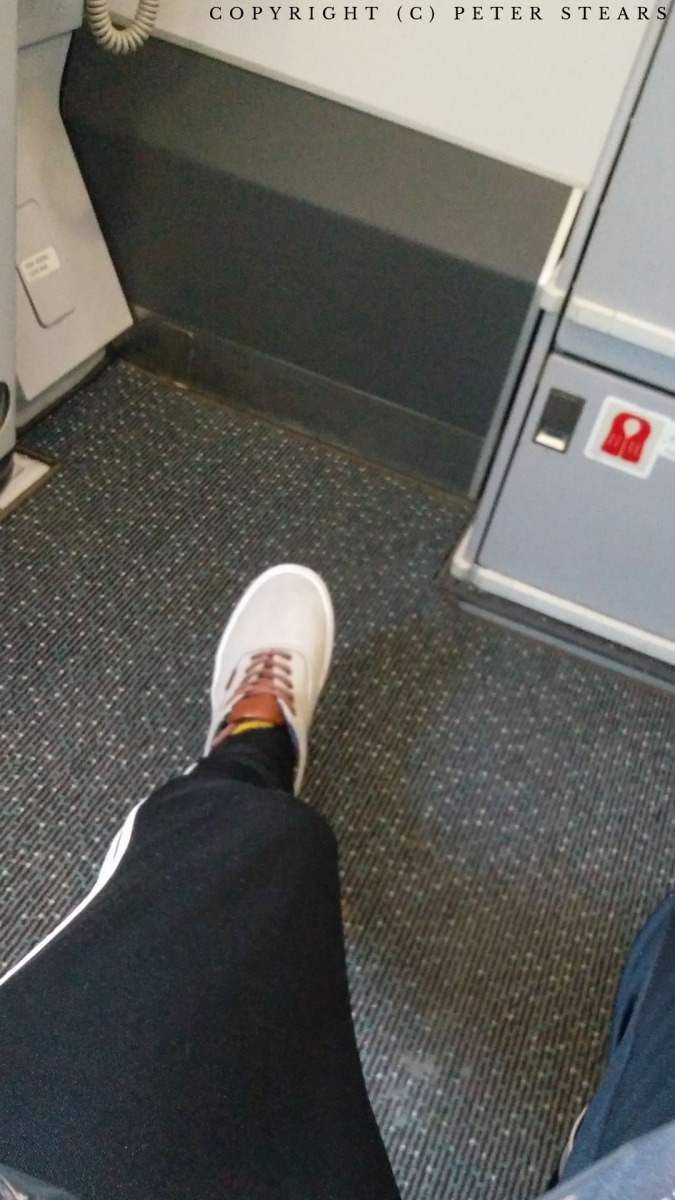 Getting upgrades for your flight don't just have to be for frequent flyers or those with special credit cards, simply ask and you (may) receive.
​Check out the rules regarding your flight and whether or not you have to check-in 24 hours beforehand, or if you can check-in/collect your boarding card at the desk in the airport. If you can, and you don't mind the extra queue, line up in the airport and inquire about whether or not there are any upgrades available. If you are lucky and friendly, you might just grab yourself a seat upgrade! That's what happened to me on the way to Hawaii, I got a seat upgrade to the exit row worth €70 and had business class legroom - not bad!
Got the latest Netflix show downloaded?
You would have to be rather unlucky but sometimes, the in-flight entertainment in front of you, can be broken. I can't think of anything worse than to just have to sit for 10+ hours staring at nothing while everyone else chills out watching movies - that would suck!
With Netflix, Spotify, YouTube, Amazon Prime, Apple Music, Kobo... the list goes on, you can pretty much download any and all media you like! If you don't pay for these services, there are always free trials and special offers on - sign-up for a month for free and download all of the content to your heart's desire! Then simply cancel before the month is up.
Even if your tv does work and you're just a bit fussy on what you like to watch, rather than having to settle, prepare yourself and watch what you want to your heart's content. Of course, if you are into reading, be sure to pack a book or magazine - I read my books on my phone so it pretty much does it all for me, plus it saves me space and weight in my carry-on backpack!
So there you have my tips on being a long-haul flight master! There's not really much to it - it's mainly about preparation and being organised. I wish you happy travels, and who knows, we might even bump into each other on a flight - just no kicking my seat! This article was written by Peter Stears, owner and operator of Primabl Travel Blog, you can follow his latest travels on his website, or Twitter, Facebook, and Instagram